APB: All Points Bulletin
Talk

0
21,085pages on
this wiki
APB: All Points Bulletin was a Multiplayer online video game for Microsoft Windows[2] based in urban sprawls and featuring two sides, Enforcers and the Criminals. Players may join either the Enforcers or the Criminals, and form sub-groups in these. The game design was led by David Jones, who contributed to the original Grand Theft Auto and Crackdown, and was developed by Realtime Worlds. It was released on June 29, 2010 in North America, Europe, and in the United Kingdom.[1]
On 29 June 2010 Realtime Worlds was placed into administration. The administrators intended to keep the company trading whilst they attempted to find a buyer for the firm. If a buyer could not be found then the long term future for the game was uncertain.[3]
On 16 September 2010 Realtime Worlds announced APB servers were to be shut down. However, it should be noted that major retailers are still selling the game and care should be taken not to purchase it as all servers are now offline.[4]
Gameplay
The game takes place in a modern-day, fictional city of San Paro where there is a constant battle between "Enforcers" and "Criminals", and the player will need to decide to which Faction they want to belong.
Other activities involving missions within the game allowing the player to earn extra money, which then can be used to upgrade weapons, vehicles, and their character appearances, all which influence the game itself.[5] For example, several Criminal players may rob a convenience store within the game; the game will then seek out one or more Law Enforcement players of equivalent skills and other criteria, and will issue an all-points bulletin for them to stop the robbery.
The camera focuses on the character from above the shoulder the currently equipped gun is held in, allowing the player to peek around corners before they lean around to shoot. The player can also zoom in using right click to get a better aim. Weapons cannot be bought straight away from NPC contacts. The player must achieve different goals to unlock the purchase of weapons, varying from completing a certain number of missions successfully, to achieving a high enough standing with a contact or organization. Contacts sell upgrades, equipment, weapons, vehicles and clothing. Ammunition can be bought from a Joker vending machine, which scattered around the 3 districts. Players cannot normally attack each other unless they are enemies or allies in a mission. This prevents death matching and griefing.
Depending on faction, players will have either a prestige or notoriety level, going from 0 to 5. This level goes up as the player successfully performs actions that help their faction's cause, such as killing players of the opposing faction, completing missions successfully, or by doing actions unique to their faction, such as mugging pedestrians for criminals, or arresting criminals for enforcers. The level decreases as the player hinders their faction; for instance, teamkilling, dying, and destroying city objects as enforcers. At level 0, a player is free to do as they please, and will not have enemy players dispatched against them. At level 1, the player receives slightly greater rewards from missions, and enemy players will be dispatched against them if they witness them performing certain actions. At level 2, the rewards are increased even more, and enemy players may be dispatched against their missions. At level 3, enemy players may be sent against the player regardless of actions, and rewards are increased further. At level 4, the player will receive increased rewards, enemy players will still be dispatched against them. At level 5, the player has a bounty put on their head, which allows them to interact with any player on the server. They can be killed by any criminal or enforcer, but a bounty player can kill anyone on the server. All rewards are greatly increased for a person with a bounty for being able to achieve goals while under extreme pressure. When someone kills the bounty, unless they are an enforcer killing a fellow enforcer, the killer receives a large money and standing reward for being able to kill such a high-threat player. A bounty can be removed by death, or by reducing prestige/notoriety enough to reduce the level to 4.
APB also claims it will be the first Multiplayer online game title where the player's skill determines the character's progression, as opposed to the normal model of time investment.
At Game Developers Conference 2009 it was announced that Vivox would be providing voice chat for the game, the software allows players to customize the voice of their characters with voice fonts, and also to communicate using 3D positional audio.
It has also been revealed that you will be able to synchronize music from your hard drive to the in-game radio. If another player owns the same song being played, it will appear as an ambient sound from your car. However, if the player in question does not own the song: Last.fm will automatically match the track with any similar artist.[6]
Development
APB has been described by Realtime Worlds executive Colin Macdonald as being "the bastard child of everything we've been striving towards over the 15-20 years" and a culmination of "what [David Jones has] always wanted to do from GTA and before Crackdown and APB."[7]
APB was planned as early as 2005, initially as a Microsoft Windows and Xbox 360 title, and intended as the flagship title for the then-newly founded Realtime Worlds studio created by David Jones.[8] Then, it was planned that the Xbox 360 release would be in 2010. In the interim time, Realtime Worlds developed the video game Crackdown, released in 2007, which bore some resemblance to the concepts that were to be in APB.
At the 2008 Game Developers Conference, David Jones stated that APB would be released in 2008.[9] Jones noted that APB would be more like a multiplayer online game with players interacting with up to 25 other players at the same time. He also noted that the game compared well to the typical style of fantasy or sci-fi "multiplayer online" games such as World of Warcraft, but did not expect to compete with those games, as the concept was different. On April 14, 2008, Realtime Worlds announced that it had raised $50 million for APB and other future projects.[10] However, he also confirmed that Realtime Worlds was now looking at a 2009 release.[11] In this same announcement and subsequent interviews, the company stated that that game was now scheduled for release on Microsoft Windows in 2009, and with options for eventual versions on the Xbox 360.[12]
On April 21, 2008, Realtime Worlds announced that it had reacquired the global distribution rights for APB, significantly amending the arrangement made in 2005 with Webzen Games.[12][13] An industry rumor suggested that Realtime Worlds planned to sell the game to Rockstar Games in order to re-craft it as a massively multiplayer Grand Theft Auto, though Realtime Worlds denied these rumors.[14]
In June 2009, Andy Eddy from teamxbox.com reported, "Not only did a spokesperson indicate to me after the EA announcement that the title was being developed for Xbox 360, during today's presentation [at E3 2010], Realtime's Dave Jones said that the first consideration would be the PC release, and then it'll come to the console side. So, while what follows isn't strictly for the Xbox 360, it seems that Realtime Worlds sending the game our way is a definite. If everything that I saw today actually comes to our favorite system, we should all be very, very happy."[15]
In July 2009, EJ Moreland from Realtime Worlds made it clear that APB would be a PC release only for the first release, but they would be looking at the possibilities for a console version.[16]
A PC closed beta ran from October 19, 2009 to June 4, 2010.[17] This was followed by a open beta which ran from June 12, 2010 to June 19, 2010.
On April 30, 2010, a press release was published by official fansite APB Evolved that included pricing information and release dates: June 29, 2010 in North America, July 1 in Mainland Europe and July 2 in the United Kingdom.[1] A subscription-like system will be used, where players purchase game time for action districts, either by purchasing hours or by opting for an unlimited playtime option for 30 days. Players will be required to purchase a copy of the game, which will have an MSRP of $49.99 in the United States, £34.99 in the United Kingdom and €49.99 in Europe, and will include 50 hours of initial game time.[1] Both the game and the website will be available in French, German, Spanish, Italian, Russian and English.[18]
There is currently no known release date for Australia.
Music
The game houses an in-game music system similar to Grand Theft Auto. It features established acts, but also emerging artists including Atlas&i and Avosetta.[19]
The game allows players to import music into the music player. If other players also have the same song imported to their music player, they will hear the music on the player's car radio. If another player does not have the same song imported, Last.fm will select a similar song to play instead.[20]
Embargo controversy
APB's release was met with some criticism due to a review embargo, planned to last until a week after release. Whilst review embargoes are commonplace in games review, the length caused a large backlash in the reviewing community. John Walker from Rockpapershotgun.com stated "Whatever their reason is, they've crossed a very obvious, very ridiculous line. When anyone anywhere can post a review to their blog, a comments thread, or a site's reader reviews section, it's beyond daft to think that the site itself cannot." [21] Realtime worlds responded by stating "Before finalising reviews, we want you to experience the full, rich experience of APB as it is meant to be seen. We want you to see wild customer customisations, player progression and clans making an impact on the living breathing city of San Paro. This key code also therefore grants you, along with our pre-order customers, VIP early access before the official launch day. June 26th in North America and June 28th in Europe." [21]
Administration
On 17 August 2010, six weeks after the release of APB, Realtime Worlds entered administration. Former APB staff spoke to the press about the development process, including a lack of management focus and desire to ignore negative comments from beta-testers, and the substandard quality of gameplay including poor driving and shooting mechanics.[22]
Shutdown
On 16 September 2010, 2 months and 17 days after the release of APB, Realtime Worlds announced the shutdown of APB with this message:
[[File:APB.com[23]|64px]]
"
APB has been a fantastic journey, but unfortunately that journey has come to a premature end. Today we are sad to announce that despite everyone's best efforts to keep the service running; APB is coming to a close. It's been a pleasure working on APB and with all its players. Together we were building an absolutely amazing game, and for that, we thank you. You guys are awesome!

From all of the Realtime World staff we thank you for your continued support.

"
~ Ben Bateman
The servers were shut down at 20.30 GMT September 16, 2010
Reception
Reception to APB has been mixed with the game currently holding a 58% average on Metacritic.[24]
Initial reviews included PCgamer giving the title 55/100.[25] and Eurogamer giving 6/10[26] 1UP awarded APB a score of 25/100[27] and Destructoid giving 35/100.[28] Other reviews were higher, with IGN giving 77/100 [29] and Edge granting 7/10.[30]
Featured Videos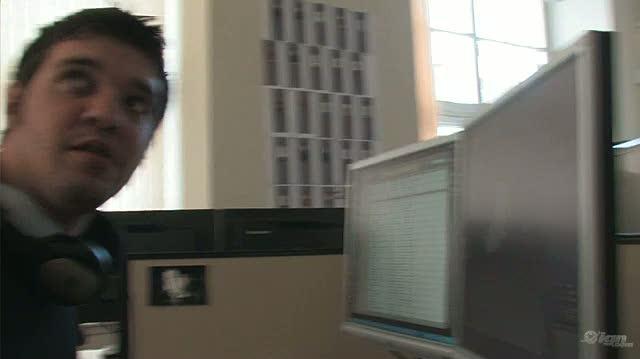 See more videos
References
↑ 1.0 1.1 1.2 1.3 Press Release: Release Date, Payment Model & Pre-Order Incentives. APB Evolved (2010-04-30). Retrieved on 2010-04-30.
↑ APB Company Line. Realtime Worlds (2007-11-16). Retrieved on 2008-02-23.
↑ McInnis, Shaun (2009-06-04). APB E3 2009 Impressions - PC Previews at GameSpot. Gamespot.com. Retrieved on 2010-06-15.
↑ Rossignol, Jim (2008-08-05). APB Is Twenty Years Of Striving, Kinda. Rock, Paper, Shotgun. Retrieved on 2008-08-05.
↑ Thorsen, Tor (2009-06-25). APB coming to Xbox 360 in 2008. GameSpot. Retrieved on 2008-02-23.
↑ Magrino, Tom (2008-02-21). GDC '08: APB out on Dave Jones. GameSpot. Retrieved on 2008-02-23.
↑ Faylor, Chris (2008-04-14). Crackdown, APB Developer Raises $50 Million. Shacknews. Retrieved on 2008-04-14.
↑ French, Michael (2008-04-15). Dave Jones says APB could generate revenues in the hundred millions. Develop UK. Retrieved on 2008-04-16.
↑ 12.0 12.1 Realtime repurchases APB rights. GameSpot (2008-04-21). Retrieved on 2008-04-21.
↑ Realtime Worlds Regains Global Distribution Rights to APB Following Second Round Funding. IGN (2008-04-21). Retrieved on 2008-04-21.
↑ Purchase, Rob (2008-05-08). Realtime downplays GTA Online talk. Eurogamer. Retrieved on 2008-05-08.
↑ APB Closed BETA Begins. Dailygamesnews.com (2009-10-20). Retrieved on 2010-06-15.
↑ APB All Points Bulletin: Atlas&i and Avosetta star. BBC Norfolk (2010-06-30). Retrieved on 2010-07-02.
↑ 21.0 21.1 http://www.rockpapershotgun.com/2010/06/17/apb-review-embargo-set-week-after-release/#more-32106
↑ Stuart, Keith (2010-09-27). Realtime Worlds: an inside story. Guardian.co.uk. Retrieved on 2010-09-29.
↑ Ben 'APBMonkey' Bateman (16 September 2010). End of an Era. APB.com. Retrieved on 16 September 2010.
External links