Arena Football is a PlayStation 2 and Xbox video game developed by Electronic Arts (under their EA Sports brand). It was released on February 7, 2006. The cover features quarterback John Dutton, from ArenaBowl XIXs champion team, the Colorado Crush. The game is similar to EA's other simulation football games (NCAA Football and Madden NFL Football), but adopts a style of play that is similar to the faster and more frantic paced Arena game. The game includes all the rules, rosters, and teams for the AFL season.
2006 AFL teams
All of the teams that are competing in the 2006 season are included. The New Orleans VooDoo have been excluded because they have temporarily halted operations due to Hurricane Katrina. However, their logo is available for use in the game's create-a-team feature. The VooDoo resumed operations in 2007. The Kansas City Brigade franchise and its colors have been included, but the official name and logo didn't make it in because they were unveiled after the game had gone into production so the team was known as the Kansas City KC in the video game.
Historic teams
EA included a number of historic teams in Arena Football. Though not every Arena League team in history is represented, a good deal are. They are awarded to the player upon meeting certain statistical goals in a game. Here is a complete list:
Teams included
Teams not included
Soundtrack
History of AFL video games
Unbeknownst to some, Arena Football is not the first videogame to feature the Arena Football League. However, it can be considered the first simulation (as opposed to arcade-style) Arena Football League game. Other Arena Football League games are:[1]
Featured Video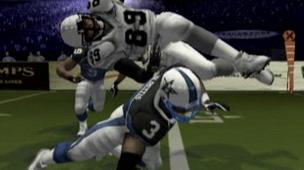 References
External links
Ad blocker interference detected!
Wikia is a free-to-use site that makes money from advertising. We have a modified experience for viewers using ad blockers

Wikia is not accessible if you've made further modifications. Remove the custom ad blocker rule(s) and the page will load as expected.