| | |
| --- | --- |
| | This article needs to be cleaned up. More information may be found in this article's talk page.(May 2009) |
Hail to the Chimp is a video game for seventh generation consoles developed by Wideload Games and published by Gamecock Media Group. In the game, players compete in mini-games as animals vying for the throne of the animal kingdom[1]. The game was released on June 23, 2008 for the PlayStation 3 and Xbox 360. The full game was released for download on the PlayStation Store on April 10, 2009 for the European and Australian markets. Its title is a reference to a drive-in movie called "Hail to the Chimp," which Homer watches during his car theft plan in the season nine Simpsons episode "Dumbbell Indemnity."
Reception
Hail to the Chimp received mixed reviews from critics. Some criticized it for having bad controls and camera and thin comedy, while others deemed it a best-of-breed party game that filled a notable gap on the high-end consoles.[2][3]
UGO - A-
1UP - B+
Teamxbox - 7.9/10
OXM - 7/10
GamesRadar - 7/10
EGM - 6.6/100
StrategyInformer - 6.0/10
Game Informer - 4/10
GameSpot - 5.5/10
GamePro - 3/5
IGN - 3.5/10
X-Play - 1/5
Gamerankings - Xbox 360- 60.9%, PS3- 53.3%
Videos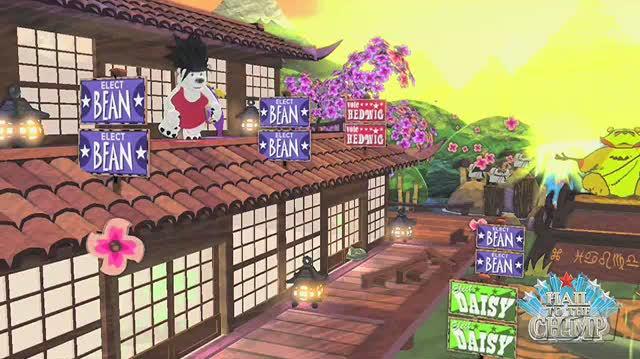 References
↑ Brudvig, Erik (2007-12-14). Hail to the Chimp Hands-on. IGN. Retrieved on 2008-04-05
↑ Rosenberg, Adam. Hail to the Chimp Exclusive Review. UGO. Retrieved on 2008-10-12
↑ Knox, Cortney. Hail to the Chimp. Static Multimedia. Retrieved on 2008-10-12
External links
Ad blocker interference detected!
Wikia is a free-to-use site that makes money from advertising. We have a modified experience for viewers using ad blockers

Wikia is not accessible if you've made further modifications. Remove the custom ad blocker rule(s) and the page will load as expected.